P-5 Features
Universal Design
-Fits virtually any SLR, as well as many point-and-shoot cameras
-No need to buy a new plate each time you upgrade your gear.
-Easily move from camera to camera or share plates between multiple cameras.
Click Here for Specific information about Compatibility

Rock-Solid Connection - We specifically designed the P-5 to provide a solid, twist-free connection to your camera body.
How It Works The P-5 features a thin layer of dense, smooth, but grippy rubber on its top surface. This coating grips the bottom of your camera, but is so dense and thin that it maintains the solid feel of a metal-to-camera connection. Beneath the rubber, the top surface of the plate is machined to ensure that the frictional force is concentrated on the outer portions of the plate. This provides the maximum mechanical advantage to resist twisting.



Lightweight - 1.4oz (40.8g)
A hollowed-out underside and lack of flanges or extensions on top minimizes bulk and weight.
Dual Safety Stops
The P-5 features the same unique dual safety stops found on our lens plates.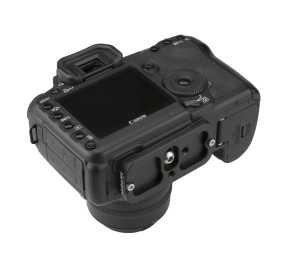 Ergonomics
The P-5's thin profile and generously rounded corners make it easy on the hands; it blends beautifully with the contours of your camera.

Threaded Hole for Non-quick-release Applications
For further versatility, the P-5 offers a third hole that is threaded and can be used to attach your camera to a ¼" stud on a tripod head platform without the need for a quick-release clamp (see bottom view).