Really Right Stuff BH-55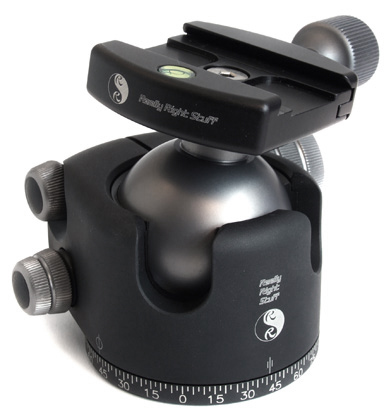 This is a very attractive ball head that will hold a lot of weight. The two notches (located 90 degrees from each other) allow you to easily tilt your camera towards the ground or to the side for vertical format shots while maintaining a consistent and convenient location for the main locking knob. The variable friction control knob is very easy to use and intuitive, however, the variable friction it provides is not as smooth as that of the Arca-Swiss, Markins, and Gitzo ball heads. The quick-release clamp has a built-in bubble level.
The AK-100 Sidekick Adapter Plate ($43) is now a recommended accessory when mounting the Sidekick to a ball head with any lever style clamp.
Note: the ball head pictured above has a twist-knob clamp; these work fine with the Sidekick.
RRS lever-style clamps have a very limited clamping range compared to traditional twist-knob clamps. The range is not adjustable and may vary significantly from clamp to clamp. RRS guarantees that their lever-style clamps will accept dovetail plates that have a specific width (this width is the standard used by Wimberley and RRS). Incompatibility with plates that deviate from this standard size (e.g. Kirk plates) is a sacrifice that RRS requires you to make in exchange for the convenience of the lever-style clamp.
The Wimberley Sidekick is designed to work with twist-knob style clamps, there is an inherent variability in the width of the Sidekick's dovetail (because it is powder coated) that makes it impossible to guarantee that it will fall within the limited clamping range of RRS lever-style clamps.
We have adjusted the dovetail dimension of the Sidekick to match the standard RRS/Wimberley dovetail width as closely as possible, however, the dovetail width is effected by the thickness of the powder coating, which cannot be perfectly controlled. Because of the geometry of the dovetail, variations in the thickness of the powder coating are multiplied by a factor of 4.83 when applied to the working width of the dovetail. Thus, small variations in the powder coating thickness can cause the dovetail to fall outside of the limited clamping range of the RRS lever-style clamps.