Linhof Profi II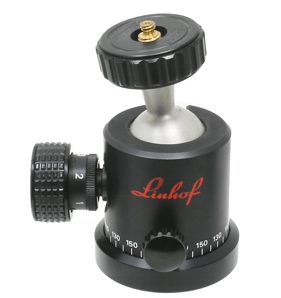 The Linhof Profi II appear to be very well made, as its price would suggest. It has smooth action in both the ball-and-socket joint and the pan base.
The pan bases of this ball head is extremely smooth. The motion is damped by grease which adds to the smooth feel, but could get very stiff in cold weather.
The knob used to tighten the pan base is not captive.
The Profi II will hold lenses as large as a 300mm f/2.8. It will hold the weight of a 500mm f/4 lens for static situations, but the lens would probably move or creep if you move the tripod around.
The Profi II does not come with an Arca-Swiss style quick-release clamp. You can add the Wimberley C-10 clamp to the head ($79.00). In order to do this, you must purchase a ¾" long 3/8-16 set screw from your local hardware store. Unscrew the plastic platform from the top of the Profi II head and screw the ¾" long 3/8-16 set screw into the stem of the ball head. When the set screw is screwed in as far as it will go, there will be enough exposed threads to attach the C-10 Clamp to the head. To keep the clamp from twisting, use the ¼" set screw that comes with the C-10 Clamp. Only the edge of this set screw will hit the stem of the ball head, but this will be enough to ensure that the clamp does not twist.
The Linhof Profi II is a very nice head but it is expensive. The Gitzo 1277M head will give you similar performance for less money and less weight, though it is not quite as refined.